Resume / HEARTBEAT DRUMS
THE BLACK DONNELLYS Dublin - Irish band/Las Vegas Sub Drummer
JOURNEY L.T.D. Living The Dream Tribute To Journey >Live Drummer
YOU GOT LUCKY Tom Petty Tribute >Live Drummer
HART ATTACK Las Vegas Rockshow featuring Drew Hart / Sub Drummer
LEE ROCKER / STRAY CATS Founding member >Tour Drummer
BON ATELLO Larry Atello as Jon Bon Jovi Tribute>Live Drummer
ROK OF AGES Fremont St Experience,Las Vegas 200+ Weekly> Live Drummer
MASON RUFFNER (CBS Records-Gypsy Blood) >Tour Drummer 4 tours
THE YAHOOS, Los Angeles w/Jimmy Crespo) Live and Recordings
BLUESBREAKERS ALLSTARS w/Paul Shortino (Quiet Riot) , Jimmy Crespo (Aerosmith) , Sean Koos (Joan Jett) > Show drummer at House of Blues Las Vegas and Recording drummer.
SUPERSTARS OF ROCK (Tribute Show)>Tour Drummer
60s MANIA (Tribute Show)>Tour Drummer
ZOOMER (SONY/MAGNATUBE Records) --SPIN FX (BACARDI Records) Tour Drummmer--SIBERIA (D.M.V. Records)--Charlie Gracie,--Larry Donn,--Love Rangers-- Creedence Clearwater Revival Tribute 2nd Manassas+Creedence Clearwater Revival Tribute Tombstone Shadow--Planet 80s-80s Flashback.
RUNNING DOWN A DREAM Tom Petty Tribute
Royal Purple Rockers (Las Vegas Rock Cover Band) >Live Drummer
Jon Bovi / Bon Jovi Tribute-(Tribute Shows)>Live Drummer
Bootieshakers Rockin Disco Show-(Tribute Shows)>Live Drummer
Eruption and Walen Halen Van Halen Tributes - (Tribute Shows)>Live Drummer
LEE PERSON & E.R. SHORTS (Austin Texas) Blues & Funk>Show drummer -6th St weekly Gigs-
A.D.D.(America Records) L.A. Showcase and Recording Drummer
Melanie Novak & House Party 5 tours-Royal Caribbean Adventure Class Ships & U.S.A. Casinos>Tour Drummer>
2001 Historical International Rockabilly Festival in Green Bay Wisconsin was the House Drummer on Main Stage backing featured artists including Barrence Whitfield, Charlie Gracie, Levi Dexter, Larry Donn etc, 9 shows in 5 days.
Education:
Musicians Institute,Hollywood,Ca - P.I.T. Graduate
+ Private studies with Stan Lunetta,Mark Craney,James Kottak,Glen Sobel,Kenny Aronoff.
Product Endorsements: Check them out!
1. VATER Drumsticks - Peter Dallas Signature>Power 5As & Los Angeles 5As
2. PAISTE Cymbals
3. AHEAD ARMOR Cases + Stickbags/Gloves
4.D.W. Drums
PROFESSIONAL DRUMSHOP Hollywood Ca. (Stan & Jerry)
Custom Blue Flame Drumset by SEAN TOPHAM, Los Angeles Ca TOPHAM DRUMS
"Great rockin drumming and Solid time" LEE ROCKER / STRAY CATS founding member.
"Pete did 5 tours with me and was always a hoot to play with" Blues Guitar Legend MASON RUFFNER.
"Dallas wrote his drum arrangements quickly and saved us time in the studio"-Thanks Pete! "AMERICA RECORDS RECORDING ARTISTS - A.D.D.
Below pics 1. Wedding Crashers shoot w/owen Wilson - 2. BLUESBREAKERS ALLSTARS w/Paul Shortino-Rough Cutt,Quite Riot,Jimmy Crespo-Aerosmith,Rod Stewart,Sean Koos- Joan Jett) 3. w-James Kottak sits in on PDs D.W. Kit) "Petes a killer drummer and a great friend"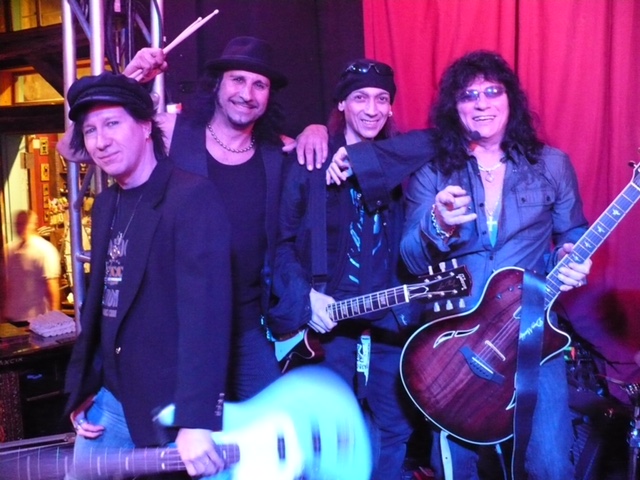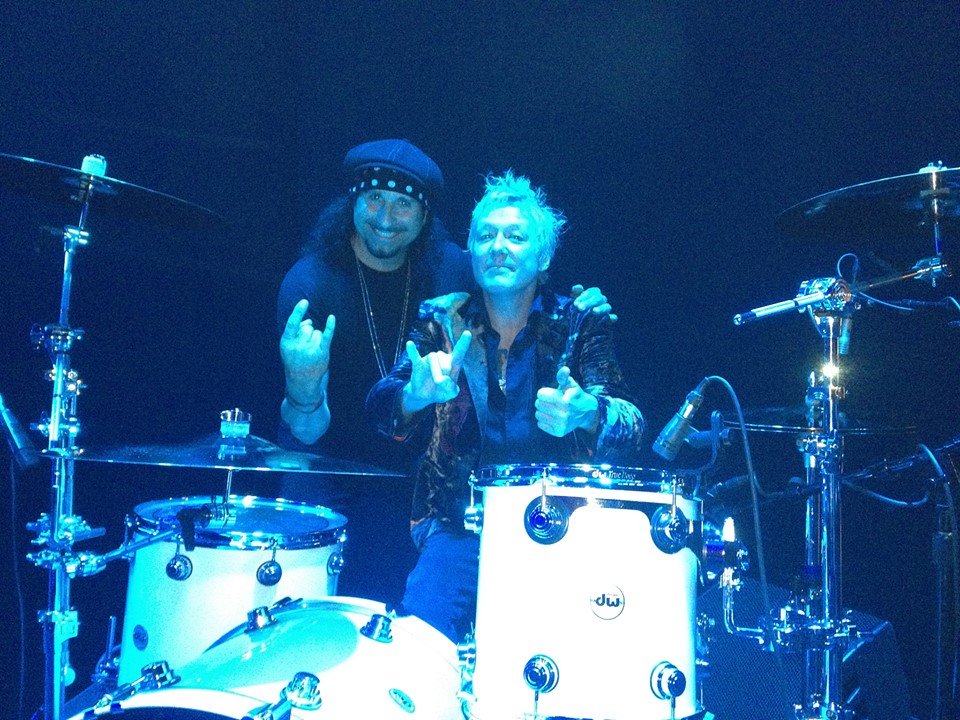 (Below)-Rockabilly Years ,GreenBay,WI-On Legends Rockabilly Tour after performing with the great Charlie Gracie -here talkin drums w/D.J. FONTANA-Sun recording artist and drummer w/Elvis Presley.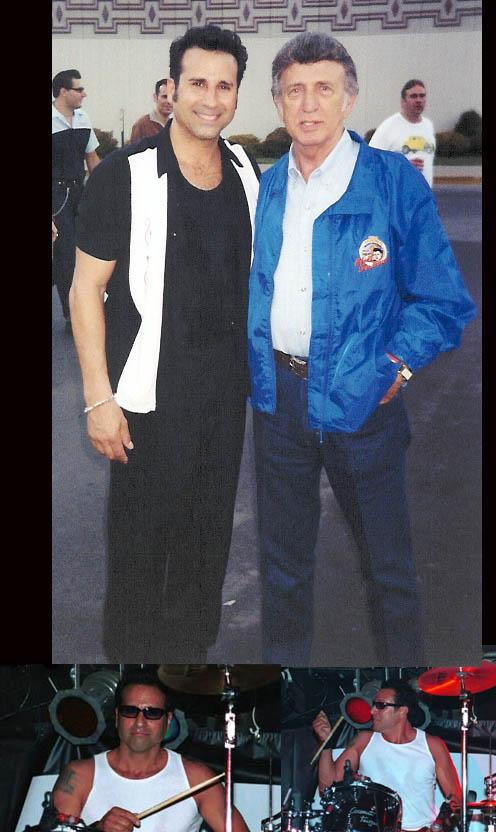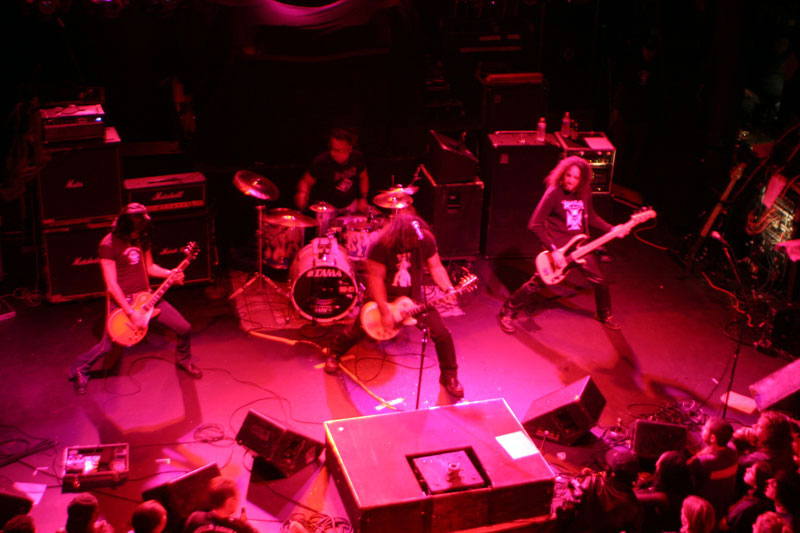 W/National Dust @Key Club L.A. opening for Wasp